From
Kentucky Department of Agriculture
Lexington restaurant is planning a program to support local farmers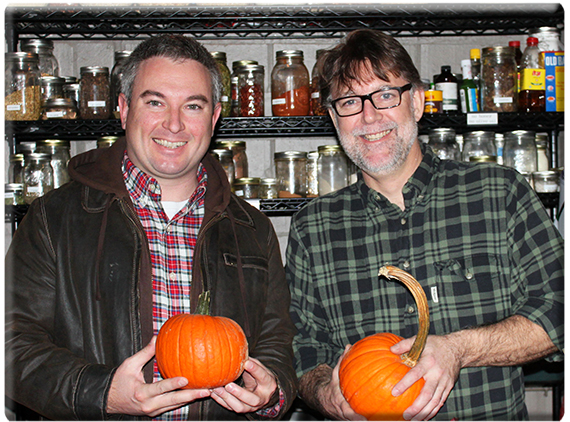 Mark Jensen, right, owner/executive chef of middle
 fork kitchen bar, and Agriculture Commissioner Ryan Quarles hold
Kentucky Proud pumpkins from Stonehedge Farm in the fall of
2016 that Jensen used to make fire-roasted candy pumpkins.
In a world where many owners list their businesses and products in capital letters to draw attention, Mark Jensen has a different philosophy. It's no typographical error that middle fork kitchen bar breaks a grammatical rule by preferring its name written entirely in lower-case letters.
"I suppose the lower case name is simply a reminder to stay humble, to not draw attention to the business," said Jensen, owner/executive chef of the Lexington restaurant, "but to emphasize the process of our cooking and hospitality."
Jensen isn't comfortable with describing his Kentucky Proud restaurant as "farm to table." He feels that should be the role of every restaurant.